Culture
Inside East Jesus, One Of Slab City's Most Famous Communes

Updated 五月 20, 2019
1.4k views
13 items
Slab City, CA, is quite possibly the last "lawless" place in America. While residents and visitors have their own unique code of conduct, Slab City is not overseen by any state or municipal entity.
One major benefit of geographic isolation and lawlessness is the ultimate freedom of expression, which allows Slab City to operate as one giant multimedia canvas. While offbeat artwork covers every surface of The Slabs, Slab City is also home to the only art museum in Imperial County, East Jesus.
Founded in 2007 as a sustainable art project, East Jesus quickly became an entire sub-community of Slab City and a highly sought-after tourist destination. It is home to numerous art cars, giant sculptures, and installations that often double as living spaces. The art at East Jesus is abrasive, psychedelic, and completely out of this world.
East Jesus Was Founded By Charlie Russell In 2007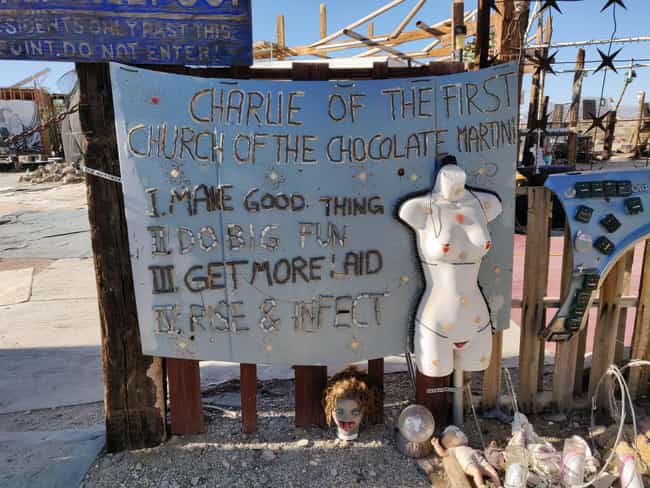 While Slab City has been around since the middle of the 20th century, East Jesus is a fairly new addition. In 2007, former tech worker Charlie Russell packed up his entire life into a shipping container and hit the Slabs to help work on Salvation Mountain.
East Jesus began with Russell's two art cars parked on his compound. The operation quickly snowballed as friends and residents began building other experimental artworks on the property, creating an expansive labyrinth of multimedia works. Over the next four years, Russell built a performance space and several permanent building structures, among countless installations.
Since Russell's passing in 2011, residents and the East Jesus board of directors have continued to keep Russell's vision alive.
The Wall Of TVs Is A Criticism Of Media and Technology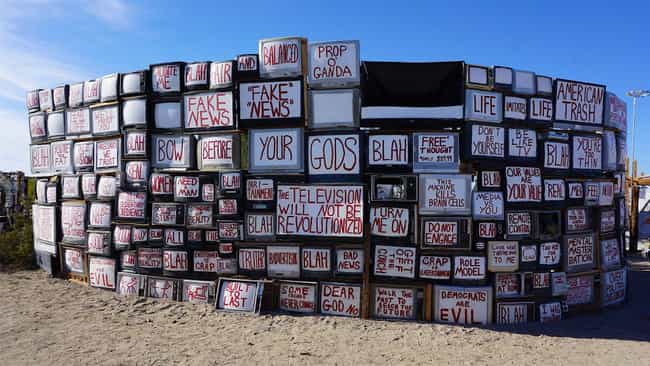 One of the most popular exhibits in East Jesus is Flip Cassidy's "Wall of TVs." The imposing wall was produced entirely using found and collected televisions, with the collected mass of circuit boards and other innards harvested for other projects.
While the viewer is free to derive their own meaning from the ever-growing collection of truisms, the purpose of the wall is to criticize the ways in which forms of media impose their agendas onto the public.
Residents And Traveling Artists Contribute To The Art Garden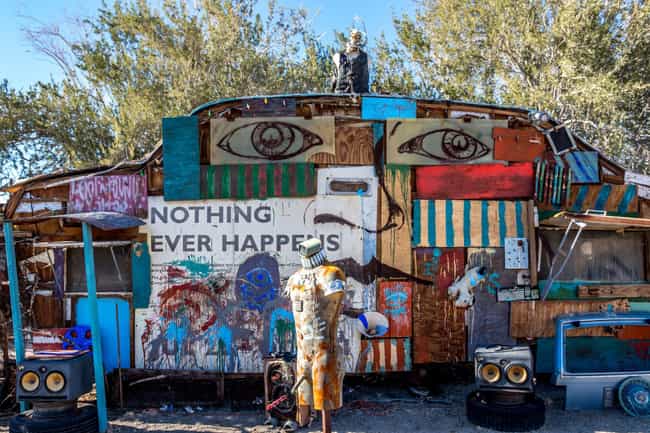 While it has evolved into a Slab City sub-community, East Jesus began with an art installation in the garden. The only "art museum" in Imperial County, the installations in the art garden are comprised entirely of reused and recycled material.
Nothing goes to waste - rusty chain, tires, gears, Christmas lights, and old vehicles are all valuable art supplies. The art garden is one of Slab City's most popular tourist destinations and offers daily tours.
The City Gets Its Name From Old Midwestern Slang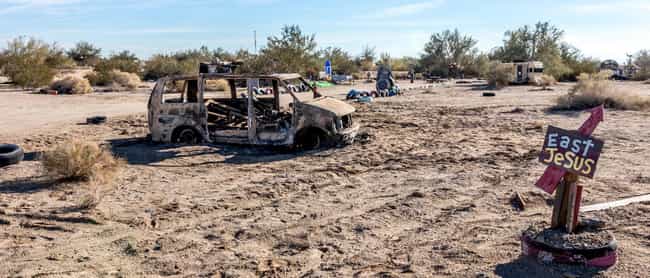 Despite the name, East Jesus is not actually a site of religious worship. The phrase "East Jesus" is an idiom that describes any place off the beaten path to the point of isolation from regular society. Many of these places also lack state services such as electricity and mail delivery, much like East Jesus.
How do you get to East Jesus? At the fork in the road, you can take the right path to East Jesus - or the left path, to West Satan.